OK … I've been slacking, I know, but I promise I have a good reason 🙂
TWO Mondays ago, I did my camshow then headed out of town for a much needed "actual" vacation with my family. We went to Anna Maria Island for a vaca we'd paid for months ago. I started feeling a little "off" during my camshow but chalked it up to just being tired. NOPE … lol … I slept almost the whole way there in the car and knew right away I was getting (actually) sick!
We checked into our hotel – Bridgewalk – and headed straight for the beach. I never really do more than 2 hours in the sun, so we headed back in. I was SO tired! I worked out anyway while they went off & grilled some chicken for dinner (trying to shed the 15 lbs I gained over the holidays while my back was out – but that's a different story all together) … and then pretty much passed out right after dinner – sleeping …. TWELVE HOURS that night. Woke up still feeling pretty much like shit, but hit the beach again Tuesday for a couple hours, walked around town, enjoyed a smoothie, played mini golf across the street, took a 3 hours nap because I couldn't keep my eyes open a second longer, worked out again while they cooked dinner and then passed out again – for another TWELVE HOURS! I swear I slept through my whole fucking vacation! How annoying lol! Wednesday, we hit the beach one final time, I worked out then we met up with the one & only Vicky Vette for dinner & ice cream (it was her birthday)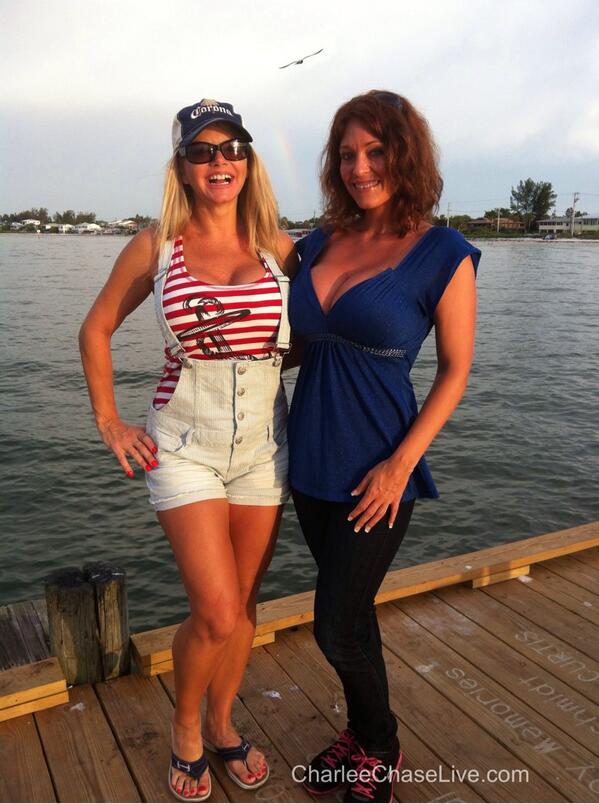 then went back to the hotel to sleep away my life some more lol.
We left Thursday morning after breakfast & went to Sunken Gardens in St. Pete. It was HOT out and I felt really crappy but it was still very nice anyway. I was forced to cancel my shoot (with Conor Coxxx and two girls the following day) … and I took myself to the doctor. Apparently I had bronchitis (ahhhh … that explained the horrible coughing!) … as well as walking pneumonia …. fun lol! So … loads of pills and more rest for a week and I should be fine. That night, my little one got the tummy flu – which plagued her all weekend long. Come Monday …. guess who was still sick with Bronchitis and Walking Pneumonia AND had the tummy flu??? Yep, you guessed it … ME lol…. As if the first two ailments weren't enough and as if my mad dieting and working out (and wanting to die from working out while having pneumonia and bronchitis) … I spent the entire week eating nothing but bread and obviously not working out … and just curled up in a ball on the couch.
My much looked forward to vacation was pretty vacant for me since I was so sick during the whole thing … and the entire week to follow as well … but I still had fun (while I was awake lol) … As of Saturday, I finally feel better (YAY ME!) and I'm back to filming, back to my daily grind, back to working out (as of yesterday) and back to eating actual food! So much so that after an entire 5 days of NOTHING but bread I pretty much ate everything in sight all weekend long hahaha … and gained back THREE pounds … but it's all good … because I'd already lost 12 of the 16 … so I'm only 6 lbs away as of this morning so I'm not too worried about it. Hell, I worked out while pretty much deathly ill on vacation … so I think I deserved a break anyway 🙂